Mangoes make their sweet return to the Moana on Saturday, July 14 for the 10th Anniversary!
Look forward to early afternoon activities including our ever-popular Makaha Mangoes Farmers Market, Cooking Demonstrations and more.
Be sure to join us in the evening for our Mangolicious Sunset Reception, the grand 10th Anniversary Throwdown event. Held on the Diamond Lawn and featuring local celebrity chefs and mixologists creating tasty dishes highlighting Hawaii's favorite summer fruit.
Please note the Mangolicious Sunset Reception is an adults only event; guests 21 years and older welcome.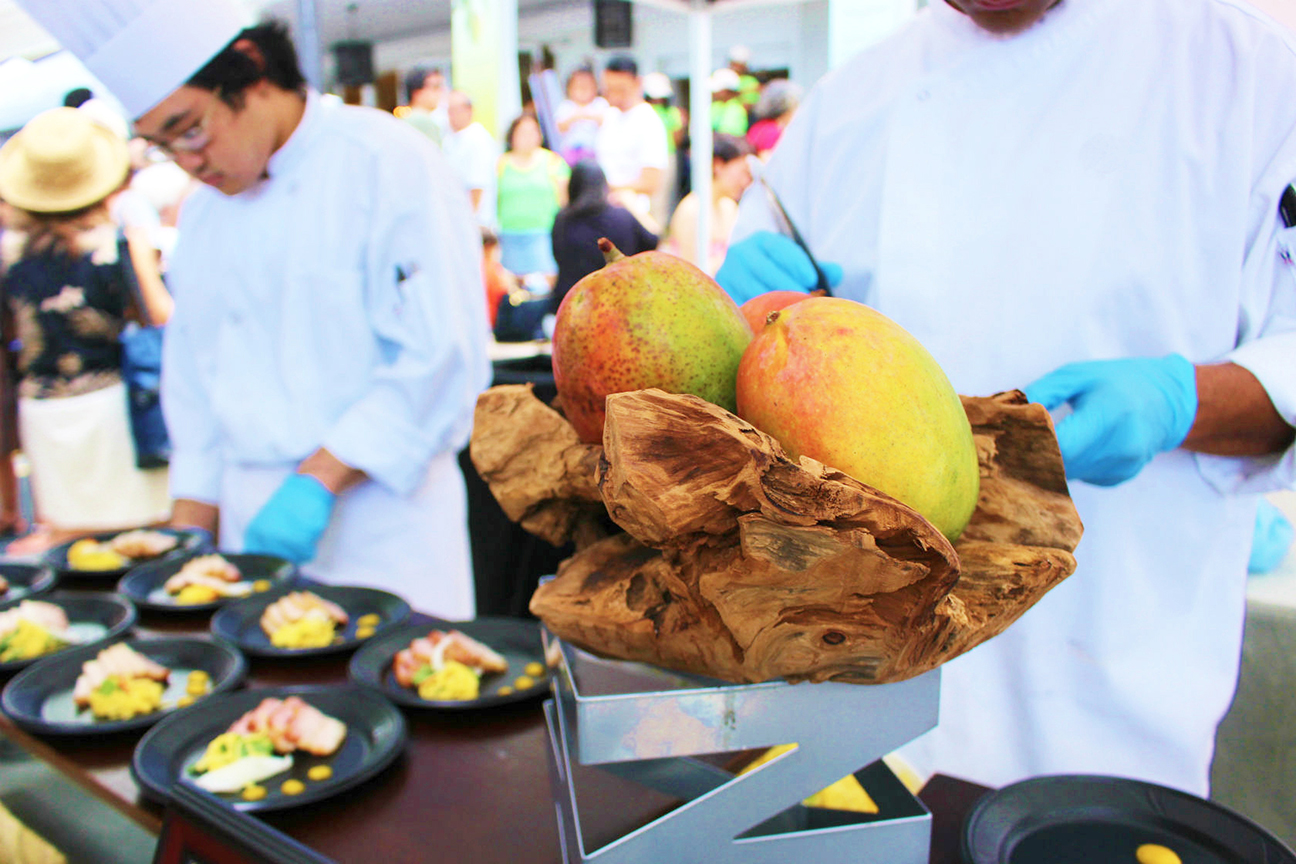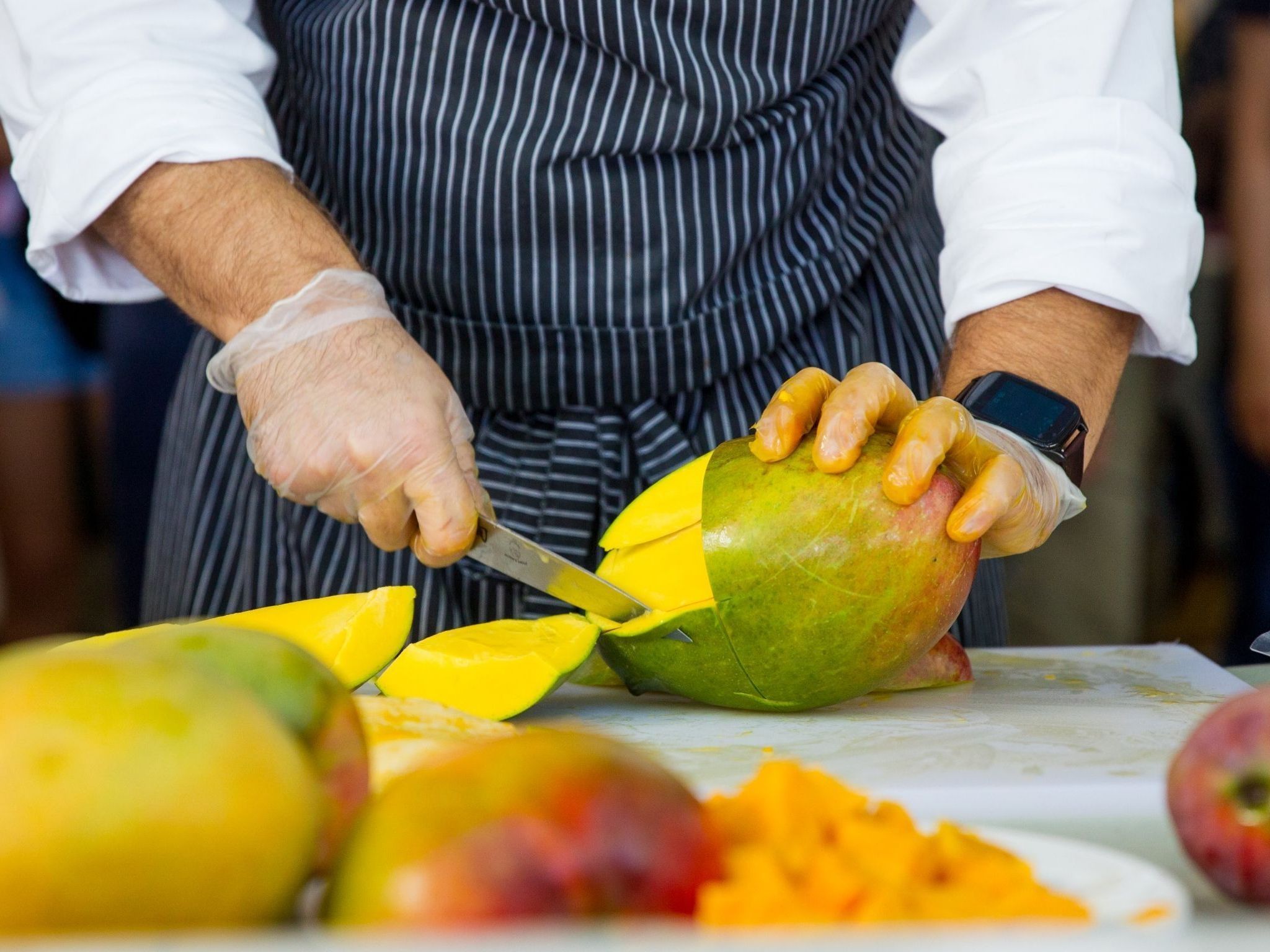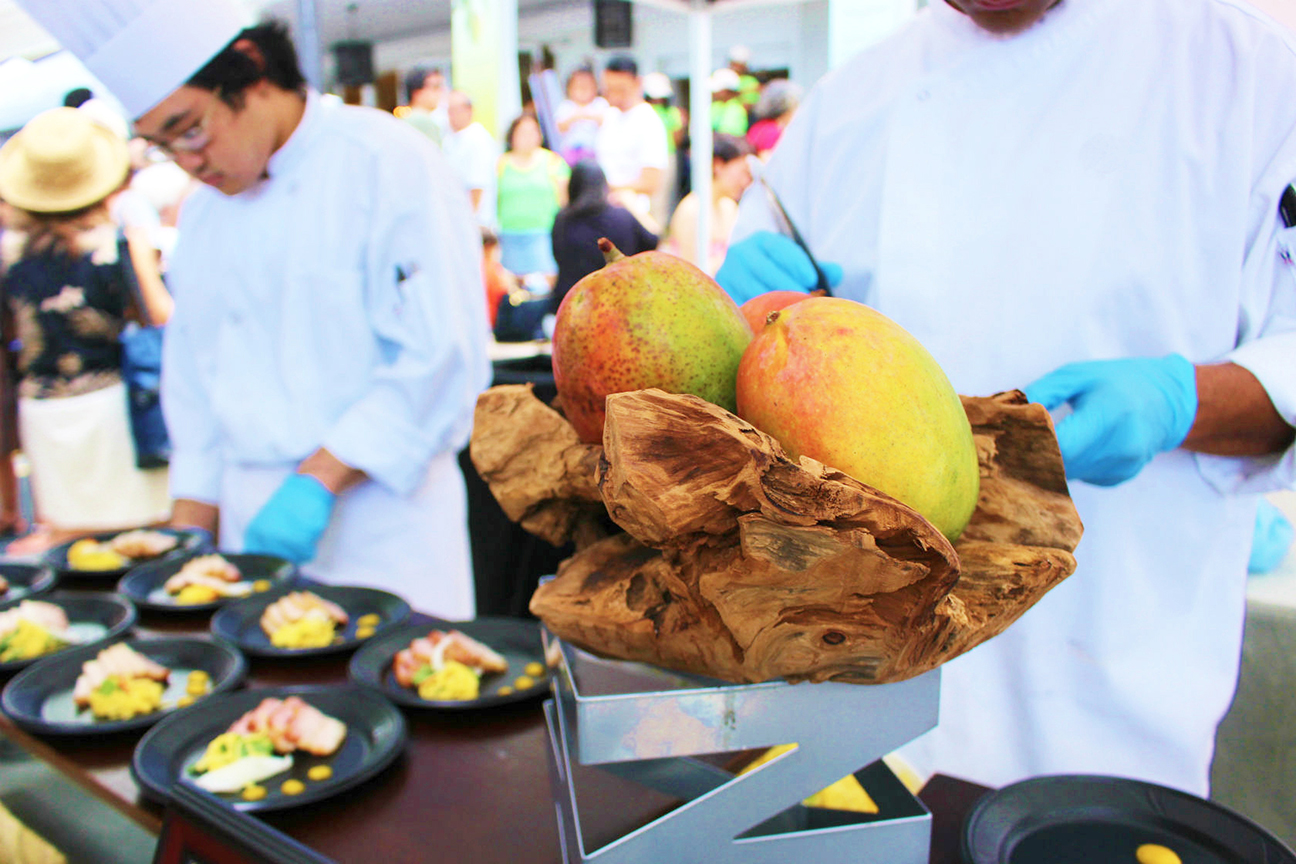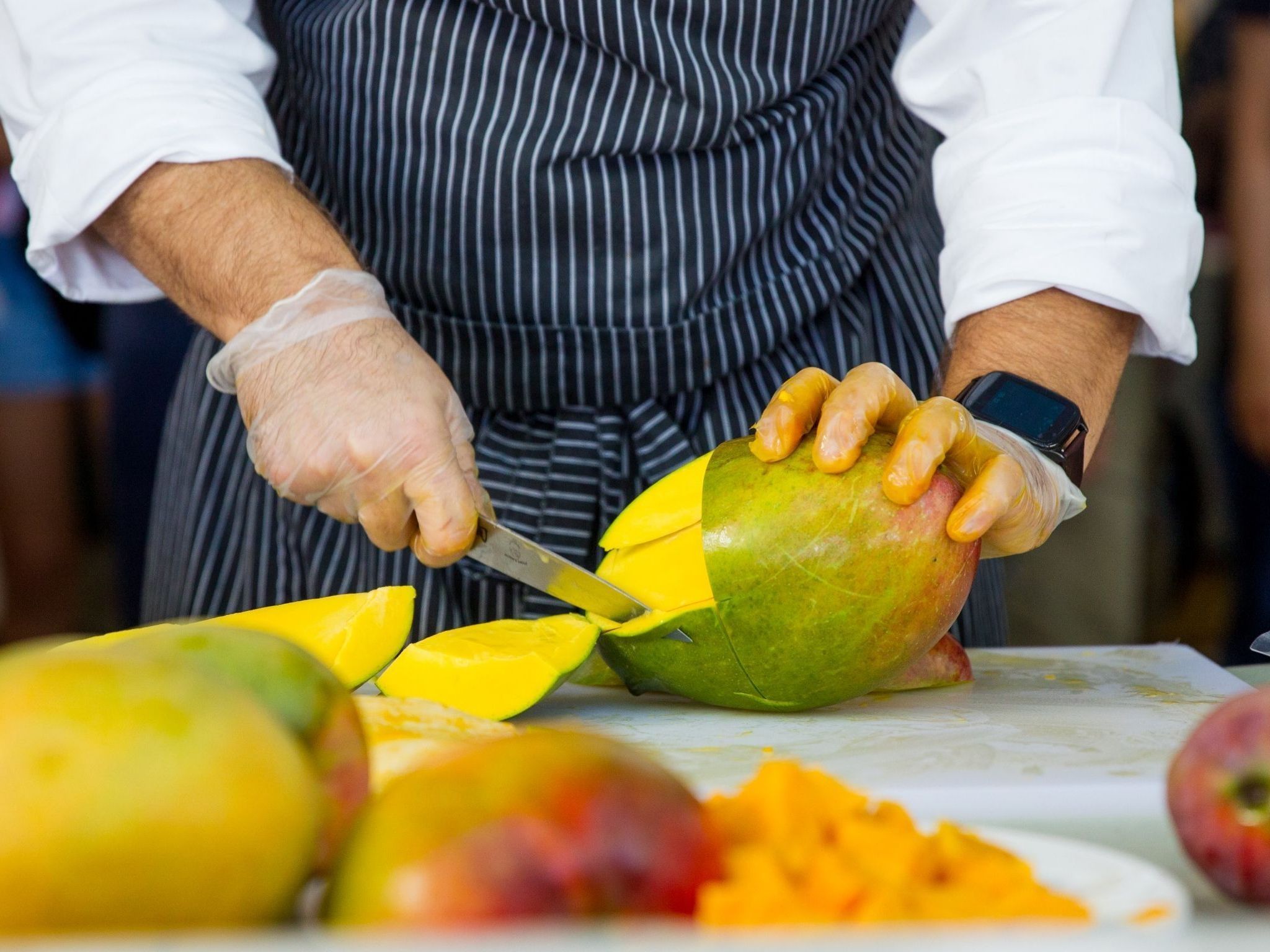 Ticket Options
For tickets please click here.
Please note: Mangolicious Sunset Reception is an adults-only event; guests 21 and over ONLY.
Mangoes Lovers Complete Experience Package | $120 per person
• Access to Daytime Events and Mangolicious Sunset Reception
• Exclusive early VIP entry to Managolicious Reception at 5:30PM
• Complimentary all-day self-parking validation


Mangolicious Sunset Reception |
$105 per person
• General entry to Mangolicious Sunset Reception at 6:30PM
• Complimentary self-parking validation
Daytime Events Admission | $15 per person
• Entry to all Daytime Events only
• Complimentary self-parking validation
Daytime Events
Banyan Courtyard | 12PM-5PM
12:00PM
The Mango Grove Opens
Local art, crafts, treats and more come together for a one-of-a-kind market featuring local artisans, and their mango-centric offerings.
Best Mango Contest Registration Opens
Avid local growers are welcome to submit their homegrown mangoes for a chance to be this year's Best Mango winner. Mangoes are judged on flavor, skin, texture and aroma.
Kids Activites
Fun for all ages, there will be an area for the keiki with fun, hands-on activities for them to get into the mango spirit.
12:30PM
Mango Growing Seminar
Open-forum seminar led by agriculture experts and arborists.
1PM
Best Mango Registration Ends
Our panel of judges will begin carefully reviewing every mango entry.
2PM
Chef Cooking Demostration
One of our Moana Chefs will demonstrate how to create one of their favorite mango dishes.
3PM
Best Mango Contest Winner Announced and Tasting Begins
The winner of the Best Mango Contest will be announced and celebrated by cutting up the entries for our festival-goers to taste the different varieties. Tasting availability while supplies last. Be sure to come early for a chance to taste before they're all gone.

4PM
Chef Cooking Demostration
Our Moana Chef will demonstrate how to create their favorite mango dessert.
5PM
Daytime Festivities Conclude

Best Mango Contest Regristration
12PM-1PM
Contest registration open at 12PM on July 14, 2018. Please bring 2-3 mangoes from a single tree for entry into the contest to the contest registration table. There is no entry fee and is open to all ages.
Mangoes will be judged by the following criteria: Flavor, Texture, Skin Color, Aroma and Yield (flesh to seed proportion).
There will be two winners:
• First Place: 2-night stay gift certificate to the Moana Surfrider
• Runner-Up: $150 gift certificate to the beachhouse at the moana
Please note that you do not need a festival ticket to enter the contest, however you do need a ticket to participate in the Best Mango Tasting.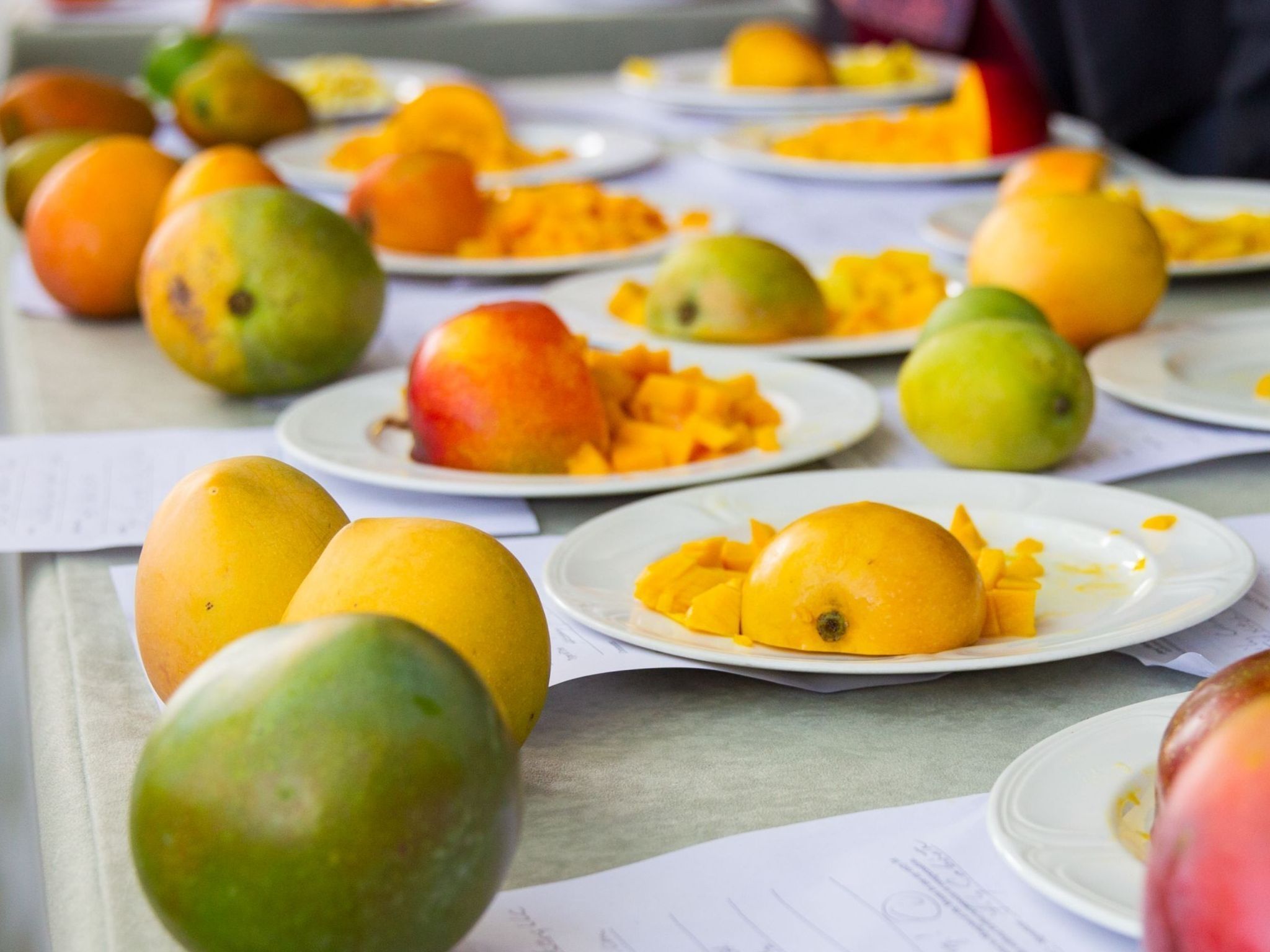 Mangolicious Sunset Reception
Diamond Lawn | 6:30PM-9PM
To celebrate our milestone anniversary, the Chefs Throwdown will feature TEN amazing local celebrity chefs presenting their tastiest mango creations. Only one can be crowned the ultimate winner!

This year's line-up includes: Koko Head Cafe, MW Restaurant, The Pig & The Lady, 12th Avenue Grill, Hawaii Convention Center, Hy's Steakhouse, RumFire Waikiki, The Modern Honolulu, Tiki's Bar & Grill and Appetito.

Mixologist from Southern Wine and Spirits, Azure Restaurant & Bar and Splash Bar will be shaking up some refreshing libations.

Browse the impressive selection at the silent auction with proceeds benefiting the Kapiolani Community College's Culinary Arts.
5:30PM
Early VIP Entry (exclusive to Complete Experience Pass holders)
Silent Auction Program begins. The auction will benefit the Kapiolani Community College's Culinary Arts Program opens.
6:30PM
General Admission Entry
8PM
Silent Auction Concludes
9PM
Mangolicious Sunset Reception Concludes